Marketing a website is probably the most overlooked step of website design and implementation. A website that is not properly marketed is just like a beautiful printed brochure that you keep in a drawer and never show anyone!

I am continuously amazed at how many website owners leave the marketing to chance. I frequently see advertisements for businesses with websites without listing their domain name. What a missed opportunity! A simple black-and-white advertisement listing a domain name expands the ad to a full-color brochure! And it costs you nothing!

As part of my design fee, I give you ideas on how best to market your site. My experience has shown that clients who make the effort to actively market their websites are the ones that are happiest with their sites!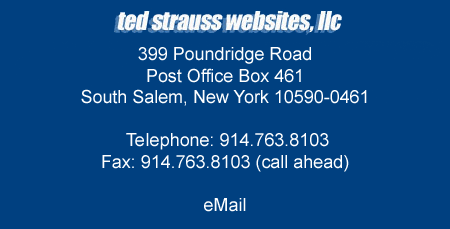 © 2018 TED STRAUSS WEBSITES, LLC

ALL TEXT AND PHOTOGRAPHS ARE THE PROPERTY OF TED STRAUSS WEBSITES, LLC

AND MAY NOT BE REPRODUCED WITHOUT WRITTEN PERMISSION.

ALL RIGHTS RESERVED.